https://www.youtube.com/watch?v=4BfKFCOCJe8
Schedule your activities in a shared agenda, manage your reservations and your business finances in a unique place.
Try for free
Pricing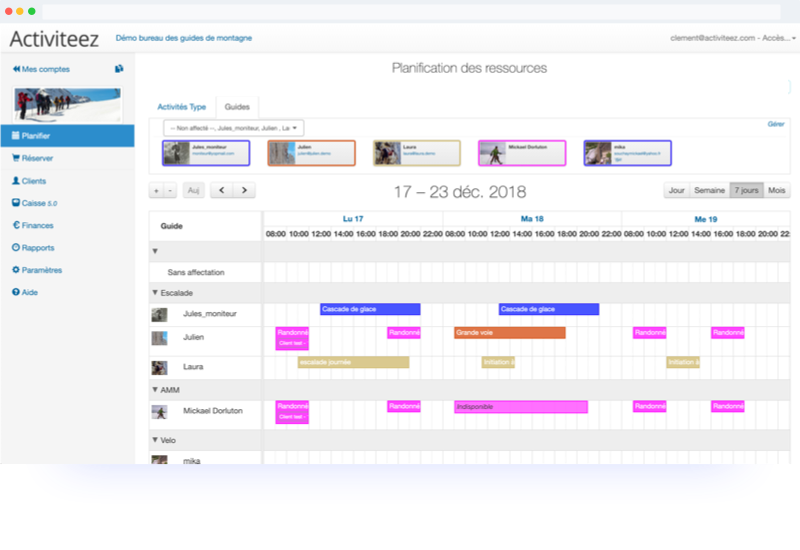 Made for leisure and tourism professionals like you
Simple and intuitive tools to work efficiently, precise features to manage your team... we built the killer solution.








Lightning fast planning
Plan your entire season with simple drag & drop thanks to activity templates and recurring activities.
Assign them a guide or equipment the same way.
The easiest booking ever
Done with headaches to manage your guides availability! Visualize everyone's availability in one look, and book your activities in just a few seconds.
Accounting made easy with just a few clicks
Manage revenue and expenditure in the same interface, watch your finances in real time and get clear financial reports for your accounting.
Equip yourself with the best tools
Whatever you want to manage your agenda, your team's agenda, rent equipment, book activities online or just simply receive payments or bill customers,we've put everything you'll ever need in Activiteez!
Resources
Define your stock, renting arragement and manage your bookings
Payments
Accept every kind of payments: cash, check, transfer, credit card… Get paid by any means!
Online Shop
Integrate an online shop in your website and sell your services online
Steering
Watch your sells in real time, get financial reports and make your bookkeeper's life easier
ACTIVITEEZ IS ALREADY USED BY DOZENS OF GUIDES AND BUREAUS IN FRANCE



Guides bureau of Ariège – Pyrénées